We are excited to announce our latest product release—Pyramid 2023. Our recently announced features enhance the platform in key areas, representing the most unified, end-to-end platform for using data to make better, faster business decisions.
Below we continue our blog series highlighting the most important recently released features in Pyramid 2023. Features covered below include Pyramid Hub, Link Back, and Personal Bookmarks.
Pyramid Hub
Usability studies show that users thrive and adoption soars when users can personalize their analytics experience, easily consume and understand data, and make decisions. It can also lead to higher user satisfaction and productivity. And when analysts and data scientists begin their day with an intuitive interface, it means they produce more insights for better decisions using data.
The new "Hub" interface allows users to build a collage of existing content for the home page of the main client interface for Pyramid. It enables all users to customize their home page with visuals, dashboards, and widgets so they have quick access to their most important content. Users can stay organized and save time whenever they want to access their favorite content. Users can add their favorite Pyramid content as tiles on their landing page to quickly access their preferred content when they log in. Slicers and tooltips work within various elements of the Hub pages for an enhanced user experience.
Administrators might sometimes be called upon to create customized landing pages based on a user's roles, access, and workflow requirements. The same capability is available in the administrative console. Hub Templates help admins make users more productive. For new users or users with known requirements, Hub Templates let admins customize landing pages on behalf of users. It helps admins to keep users organized. And Hub provides admins with a built-in performance hub dashboard to monitor user, analytic content, and data and usage metrics for added governance and insights into how to best tailor user homepages.
Hub can be embedded in other applications – allowing end users to self-build their own content pages in another app without significant development by customers.
The Hub can be fully embedded in a website for customers who license Pyramid's Embed option. The code for this embedding is automatically generated by Pyramid, so you can simply pass it into your web code.
Hub enables easier administration and content customization, and reduces development costs. It delivers the same benefits to any embedded user for a customized user experience that drives higher adoption of the embedded application.
Link Back
Static PDF reports sometimes raise more questions than answers. This creates huge inefficiencies in decision-making, with endless back-and-forth between analysts and decision-makers.
What if decision-makers could interact with the data in a PDF report, PowerPoint, or other formats? Now they can. With Pyramid's Link Back feature, users can generate pixel-perfect publications with a "link back" that enables decision-makers to jump back to the live report with a link, perform further analysis, generate new content, and directly answer their questions about the data. Enabling link-back automatically allows the publication recipients to open the live visualizations in the Pyramid viewer client, where they can interact with them dynamically. When Link-back is enabled, the user can click on any discovery in the publication to load it in the viewer, whether in PDF, PowerPoint, Word, Excel, or HTML format.
With one click, consumers can link back to the analytic content to expand on the findings, dive deeper into the analysis, or subscribe to the discovery. The Link-back feature enables direct URL loading for data discoveries in exported publications. Any slicers or filters saved to the discovery (from Discover and Publish) will automatically be loaded. Link Back can also be enabled in both Publish and Content Manager.
Personal Bookmarks
Personal Bookmarks give users another level of freedom to customize and persist their own selections within Present dashboards and recall them any time they revisit the dashboards from a point-and-click simple menu – delivering more ease of use and a tailored user experience. Personal Bookmarks help users save time, reuse existing work, and repeat presentations with consistency.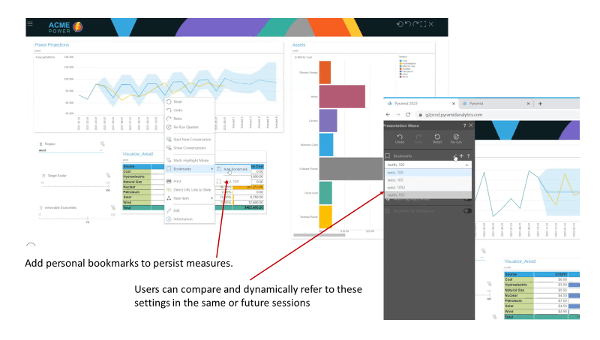 Learn more about Pyramid 2023 on our website. If you'd like a tour of the Pyramid Decision Intelligence Platform, please don't hesitate to schedule time for a demo.
---
Read More. . .
Pyramid 2023 has many new capabilities. For a deeper dive into the features highlighted in this release, please see these additional write-ups: