We are excited to announce our latest product release—Pyramid 2023. Our recently announced features enhance the platform in key areas, representing the most unified, end-to-end platform for using data to make better, faster business decisions.
With this release, Pyramid delivered even more flexibility to streamline projects, empower non-technical users, and drive adoption with a "Lite" user experience. Pyramid's collection of "lite" applications previously included Discover Lite and Present Lite, and the latest additions are Publish Lite and Present Lite. And we're also introducing a new user experience with our new Analyst user type.
Tabulate Lite
Tabulate Pro is a spreadsheet interface that lets users perform business modeling driven by live, hydrated data. Business modeling is used to create forecasts and projections, simulations, scenarios, trade-offs, and other data analyses to help a business make decisions. Tabulate Lite provides a simplified data analysis and business modeling approach through a streamlined interface that includes the most commonly used functions. It enables much of the same basic analysis in Tabulate Pro's spreadsheet-like functionality without some of the more advanced options.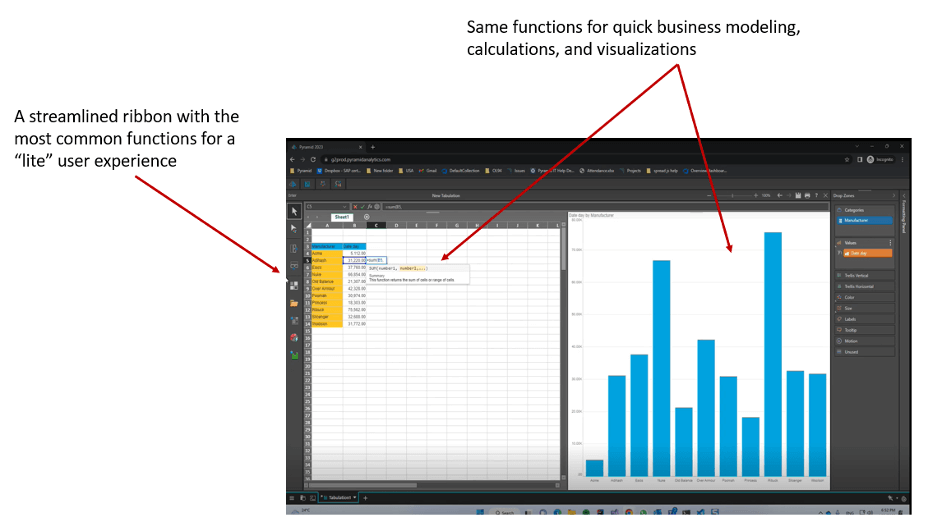 Publish Lite
Pyramid's Publish Pro is an industry-leading toolset for creating pixel-perfect publications using drag-and-drop, point-and-click report building, ad hoc querying, and data visualization. Publish Pro users can author dynamic publications (including visualizations), create dynamic text and infographics, apply styling and formatting, and change and interact with live queries. They can schedule publications for report bursting, including distribution lists, publication logic, and create custom emails.
Publish Lite is the latest in our wizard-driven series of easy-to-use content creation tools. It is geared toward less technical users who are offered a simplified experience to generate professional pixel-perfect analytic narratives and publications. This new publishing module enables less technical people in the organization to create impactful publications. Other colleagues in the same team or work group can subscribe to Pulish Lite content.
Publish Lite includes Smart Reporting for AI-driven analytical content building using augmentation engines and heuristics. Publish Lite offers an easy method for building data visualizations in Pyramid through a point-and-click wizard. Users can add new slicers on the fly, add dynamic text, import images, and more. It enables novice and casual users to collaborate with analytics teams to publish content so that more people can create and consume data to drive decisions.
New Analyst Experience
A new user has a seat at the Pyramid table and can start quickly adding value to your business and organization. The new Analyst user type allows users to create analysis and content using the Lite versions of Discover, Present, Publish, and Tabulate. Over several releases, Pyramid has been building Lite versions of its Pro modules over several releases to create a unique experience for less technical users and enable self-service for business users. The Pro user profile is normally given to advanced users (Admin users, BI developers, and data workers). The Analyst user profile is ideal for non-technical users who want to create content but require a more simplified interface with fewer options.
Now analytics projects can be streamlined and managed across your team by enabling Admins to assign seats more tailored to the users' skills and project requirements. With additional team members enabled to produce analysis and content, enterprises can further democratize access to sophisticated analytics for everyone in the organization.
Try these new features today for a customized user experience that is tailored to your needs, keeps you organized, and increases productivity so you can help your organization make faster, better decisions with data.
Learn more about Pyramid 2023 on our website. If you'd like a tour of the Pyramid Decision Intelligence Platform, please schedule time for a demo.
---
Read More. . .
Pyramid 2023 has many new capabilities. For a deeper dive into the features highlighted in this release, please see these additional write-ups: