We are excited to announce our latest product release—Pyramid 2023. Our recently released features enhance the platform in key areas, representing the most unified, end-to-end platform for using data to make better, faster business decisions.
Below we continue our blog series highlighting the most important recent capabilities in Pyramid 2023. Features covered below include ChatGPT integration, Explain the Difference, Recommended Queries, and Fill the Blanks.
ChatGPT/OpenAI Integration
With ChatGPT integration, we are taking the democratization of data and analytics to the next level. Benefit from the power of generative AI and ChatGPT combined with business analytics to unlock productivity, spark creativity, and uplevel your teams' analytic skills. Make AI work for you so you can spend your time and energy on the work that delivers business value.
Pyramid has changed the game by fusing generative AI with business analytics. From within the Pyramid platform, analysts can use ChatGPT prompts to source publicly available data (such as population data) to include in an analysis alongside actual, live corporate data and then securely perform calculations on the combined data. This combines the power of generative AI and Pyramid's sophisticated, secure platform for analyzing corporate data to calculate derived values from internal and external data on the fly. In addition, analysts can create data-driven analytic commentary combined with ChatGPT natural language narrative with live metrics and descriptions. Pyramid users can interact in plain language (versus complex code) to automatically generate everything from spreadsheet formulas (business and decision modeling) to queries (SQL, MDX, DAX) to machine learning code (Python and R). Pyramid intelligently queries OpenAI using your database schema and tables. It also automatically generates explanations for the generated queries and code. Also, users can automatically generate and apply graphic designs for data visualizations and dashboards using the OpenAI DALL-E engine. Plus, users can generate plain language textual analysis via Pyramid's native natural language query, Chatbot, and automated smart insight tools.
Explain the Difference
The Discover process often requires analysts to understand the difference between two numbers. Analysts could spend hours or days drilling down across numerous hierarchies and measures to find and explain the drivers and influencers that explain the difference. In many instances, the complexity can lead to partial or premature conclusions. In Pyramid, we leverage an AI engine, so users point and click to generate a narrative that explains the difference for them. This speeds time-to-insight by simplifying the Discover process and applying statistical techniques to ensure more accurate insights without needing technical expertise. It uses AI and ML to identify driving measures and attributes between the selected values. This feature works on the entire data model, not just the data in the view, and the analysis is not based on preset rules (unlike similar features in other products).
Recommended Queries
Users can perform thousands of individual queries across an enterprise. Many of these queries often seek to answer the same or similar question. Ideally, those queries would be easily discoverable and reusable to eliminate redundant work. But manually discovering the right query to re-use from a long list is time-consuming and not practical. So, Pyramid is introducing a new feature, Recommended Queries, leveraging AI within the Discover and Present modules to prompt users with queries they can reuse and guide them on the best question to ask, saving time and increasing productivity. Based on natural language query (NLQ), recommended queries harness the collective learnings of other analysts. It tracks prior queries and then surfaces your most recent and most often-used queries throughout the enterprise. But most importantly, it auto-adjusts the results dynamically as users type in the search bar for an easier way to surface potentially reusable queries so analysts can get on with the analysis and gain insights faster.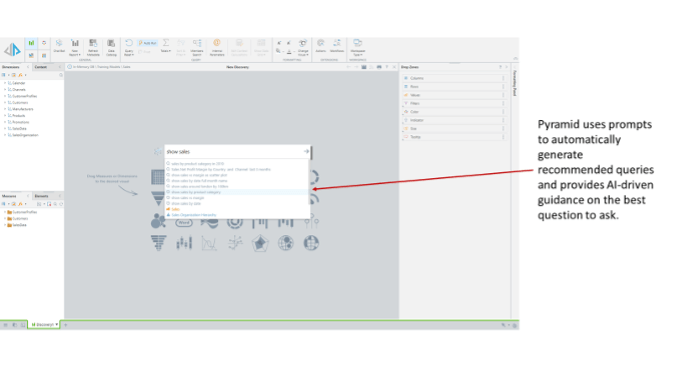 Fill the Blanks
Missing data points can stop analysis in its tracks. But using AI and machine learning techniques to Fill the Blanks can jumpstart the project and keep it on track. In Pyramid, you can use a random forest algorithm to identify and fill in missing values so you can confidently move forward using your data to drive decisions. Fill the Blanks is a new Discover AI feature that enables analysts and data scientists to confidently exploit the entire data set by filling in missing numeric and categorical data rather than deleting potentially valuable data. It enables analysts to quickly impute values for missing data and move forward with analysis, speeding time to insights.
You can learn more about these and other recent features on our website. If you'd like a tour of the Pyramid Decision Intelligence Platform, please schedule a time for a demo.
---
Read More. . .
Pyramid 2023 has many new capabilities. For a deeper dive into the features highlighted in this release, please see these additional write-ups: