Decision Intelligence
The Pyramid Decision Intelligence Platform is so much more than a business intelligence platform. It's a unified, complete, and super-fast platform that combines data preparation, business analytics, and data science with an AI-driven governed self-service experience. The Pyramid Platform delivers insights for anyone to make faster, more intelligent decisions. It provides instant access to any data, enables an AI-driven, governed self-service experience for any person, and serves any analytics need from the simple to the sophisticated. The Pyramid Decision Intelligence Platform uniquely combines Data Prep, Business Analytics, and Data Science with frictionless integration, enabling people to act faster, innovate faster and capitalize on opportunities faster.
decision lifecycle
Unifying the Entire Decision Workflow
Decision Intelligence completely reimagines the fragmented approach to enterprise analytics, transforming the decision-making process with a unified, complete, and super-fast platform that doesn't require you to move data before you can analyze it.
Explore AI-Driven Decision Intelligence for Anyone

Unlock the Potential of Decision Intelligence
Speed Up Insights

Scale Adoption
Simplify Analytics
Learn More About Decision Intelligence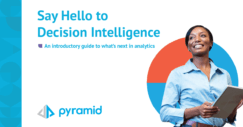 Say Hello to Decision Intelligence
Read this guide to learn what decision intelligence is, what it isn't, and how it's revolutionizing data-driven insights.
Read more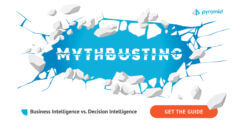 Mythbusting: 12 Myths Holding Back Your Organization
Learn how today's BI "myths" are preventing organizations from moving past the limitations of traditional BI.
Read more