Hello! And welcome to the October 2022 edition of the Decision Intelligence Digest!
Over the past six months, we've been documenting and sharing the best, brightest, and most insightful articles and info on decision intelligence.
Yes, we're passionate about the topic (and for good reason). More importantly, we know today's discourse around decision intelligence will have huge implications over the coming years. That's why we've been unpacking topics like augmented analytics, personalization, data literacy, and even decisions themselves, doing our best to deliver the information you need to stay ahead of the curve (and the technology to back it up).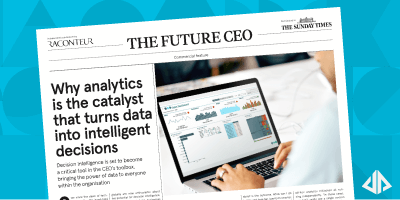 We're shouting it from the tallest rooftops: decision intelligence is what's next in analytics!
For example: check out this great article from The Sunday Times/Raconteur, featuring an interview with our CEO and Co-Founder. The piece, part of a recent report called Future CEO 2022, examines how "decision intelligence is set to become a critical tool in the CEO's toolbox."
From The Sunday Times:
But now automation and AI are powering the next evolution in using data – decision intelligence. While once there was business intelligence – a static sort of interpretation, with limited generative capabilities – decision intelligence makes data-driven decisions available and useful to everyone, in all business units and at all levels.
The article does a great job of showcasing some of the underlying differences between business intelligence and decision intelligence.
Those differences are important. However, even those with "BI" or "analytics" in their title may not immediately grasp the distinctions between them.
A good way to see the dichotomy is via the common "myths" about BI, something we often encounter in our discussions with people in all kinds of industries and roles.
On that topic, we recommend another recent piece, this one contributed by Omri to VentureBeat as part of its DataDecisionMakers series: "5 business intelligence myths standing between you and a data-driven business."
(If you like that article, be sure to check out our guide on the same topic: Mythbusting Business Intelligence vs. Decision Intelligence: 12 Myths Holding Back Your Organization.)
"So what?", you ask. Why split these particular hairs, especially when other (seemingly) more pressing issues are at hand? Well, as Dr. Lorien Pratt likes to say, the world's biggest challenges will be solved (in part) through decision intelligence. We believe decisions—and how they're made and improved over time—are the gateway to a better world.
We are determined to be part of this movement. That's why we're so proud to support UC Berkeley's Step into Data program, an effort to support more women and minorities considering data-related careers.
In the words of our friend Gauthier Vasseur (Program Director at Berkeley's Fisher Center for Business Analytics):
Data is not important. It's what you do with it that makes it meaningful. Used in the right way, it has the capacity to change the world, helping reimagine new solutions to the biggest problems we face today.
Thank you, as always, for reading the Decision Intelligence Digest. See you next month!
---
­­­­­SAP + Pyramid = Better Together
Running comprehensive analytics on SAP BW and SAP HANA—across all your SAP investments—is challenging. Pyramid can help. More than any other analytics provider, we understand the value SAP brings to your organization, and how to mine more from this crucial investment.
Here are some of our latest, greatest content on how Pyramid and SAP are better together.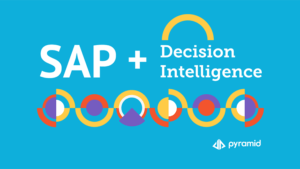 How SAP + Decision Intelligence Can Prepare Your Organization for What's Next
By Chris Brock
Did you know that 94% of people consider analytics important, across roles and responsibilities? Did you know that 84% believe data management and integration are critical to building a better analytics infrastructure? Learn more in our recent blog and infographic!
Discover, Decide and Differentiate: Creating Direct Access in SAP
By Beth Adams
Organizations that use SAP can leverage the Pyramid Platform to speed up data-driven insights, deploy AI-driven, governed self-service experiences for any person, and simplify analytics across use cases and roles. Learn more from this recent article on our blog.
And, ICYMI: our guide, The Future of Analytics on SAP, is your handbook for understanding what decision intelligence means for those using the best and most comprehensive ERP system in the world. We have a new companion video as well!
---
Peer Story:
University of Pretoria
Hear from Dolf Jordaan, Deputy Director of eLearning at the University of Pretoria, as he shares his thoughts and insights around the university's challenges with data management and data analytics, and why they chose to implement the Pyramid Decision Intelligence Platform.
---
The Look Ahead
---
Thank you for reading the Decision Intelligence Digest. If you would like to learn more about Pyramid Analytics, the Pyramid Platform, or want to hear how others in your industry are changing their approach to enterprise analytics, let's set up a time to talk.