Back in 2020, our CEO Omri Kohl published an article in Forbes, asking the industry: Is Your Company Ready to Make Artificial Intelligence and Augmented Analytics Mainstream? Two years on and the unequivocal answer is, "YES."
Last month we made the case that decision intelligence is what's next in analytics. If that's true (and it is), then so is augmented analytics.
Why?
Augmented analytics is essential to decision intelligence (we have called it the not-so-secret ingredient). That's because decision intelligence leverages machine learning (ML) and artificial intelligence (AI) techniques to transform how analytics content is developed, consumed, and shared. Practical, insight-generating applications of ML and AI—Gartner calls them "enabling technologies"—are the core of augmented analytics.
Gartner recently released its 2022 Critical Capabilities for Analytics and Business Intelligence Platforms report with augmented analytics as one of its four use cases, evaluating each platform "for organizations that want to automate many of the data integration, analysis and visualization tasks that are currently slow, manual processes" and looking most closely at "automated insights, natural language query, data storytelling, and natural language generation."
In other words, a wish list of the technologies revolutionizing how we work.
The Pyramid Decision Intelligence Platform ranked highest for augmented analytics out of 20 vendors. According to Gartner: "While Pyramid scored well across all four use cases, it is notably strong compared to its competitors in augmented analytics."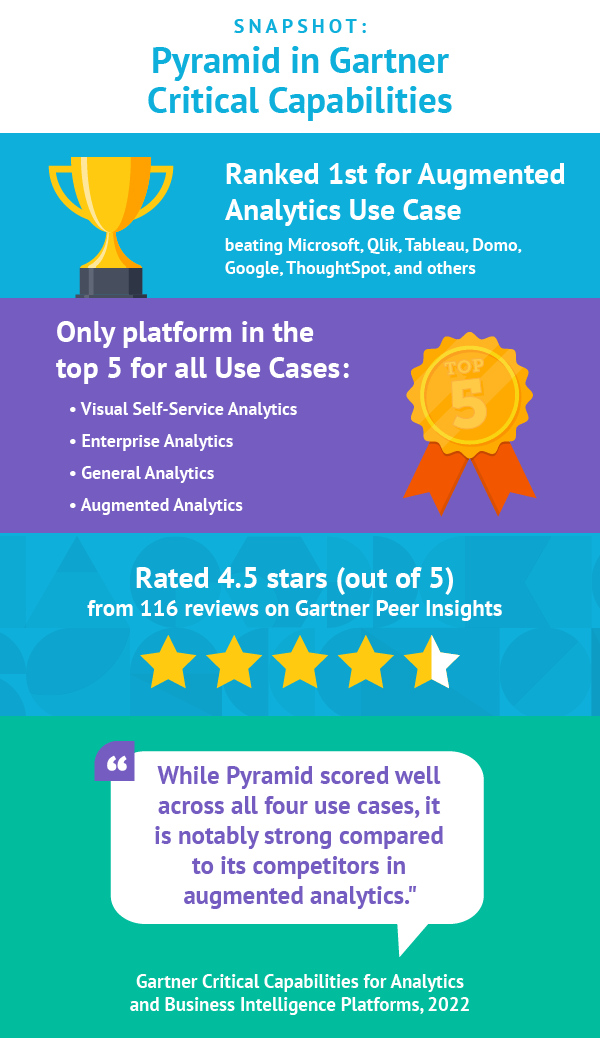 You can watch a
prerecorded demo of the Pyramid Platform
, including a test drive of many augmented analytics capabilities, on our
LinkedIn
.
That's not all:
A recent benchmark survey report from Ventana Research finds that, while nearly everyone surveyed uses reports and dashboards, between 50% and 60% are using AI/ML. Those using AI/ML now "state the highest levels of satisfaction (87%) which is more than 10 points higher than the satisfaction associated with reports (76%)."
Ventana Research also found that "the use of artificial intelligence (AI) and machine learning (ML), and what is promised in augmented analytics, is limited to one-quarter of organizations but growing." It's a movement!


TechTarget has called ours the "new era of BI," marking the end of the self-service tools that have defined BI in recent times: "After the era of self-service analytics, it's now the era of augmented analytics."
Do you know the most common myth about augmented analytics? Check out #8 in our guide (hint: AI is not just a dream).
ICYMI: CEO Omri Kohl recently sat down with Ian King of Sky News to talk about Pyramid's very successful Series E funding round, as well as the Pyramid Platform's "very deep AI capabilities."
It's about data science, too:
---
Peer Story: Community Choice Credit Union
---
The Look Ahead
Data to Insights Webinar | Pyramid webinar | June 14
BDA Big Data Analytics | Conference | June 16
SAPinsider 2022 | Conference | July 18-21

Session #1: A Fireside Chat: Decision Intelligence – What's Next in Data and Analytics with Avi Perez (CTO and Co-founder, Pyramid) and Chandana Gopal (Research Director, IDC)
Session #2: The SAP+ Challenge: Maximizing the Power of SAP With Your Data Lake Strategy with Cristina Greysman (Head of SAP on AWS Partners-America, AWS​) and Dave Henry (Senior Vice President, Strategic Alliances, Pyramid)
---
Thank you for reading the Decision Intelligence Digest. If you would like to learn more about Pyramid Analytics, the Pyramid Platform, or would simply like to hear how others in your industry are changing their approach to enterprise analytics, let's set up a time to talk.