The BI & Analytics Survey 24 – BARC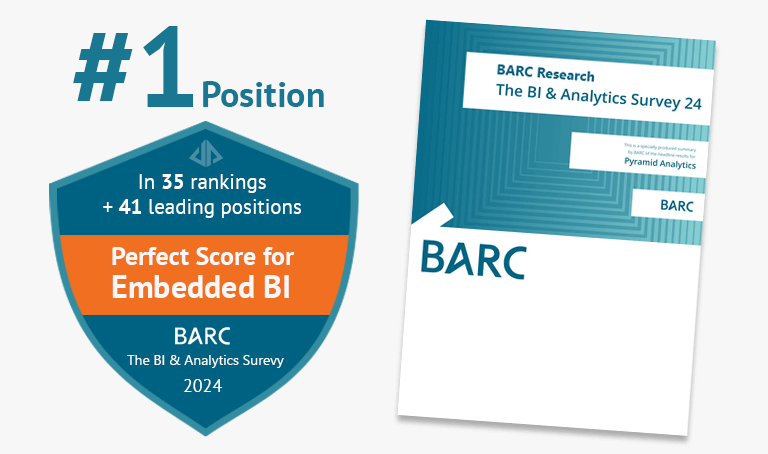 Discover the industry's most comprehensive report* on BI and analytics software based on real user experiences. With 1,480 user responses, this is your guide to understanding how other organizations and users rate leading BI & analytics solutions. 
How BARC ranked Pyramid Analytics: 
35 Top rankings!

 

Ranked in leading positions 41 times

 

Perfect score (10) for Embedded Analytics and Flexibility

 
Top ranked in the following categories:  
– Data Prep, Embedded Analytics, Operational BI, Advanced & Predictive Analytics, Visual Analysis, Dashboards & Reports, Distribution of Reports

 

Benefit from the highest quality solutions for your success

 

– Functionality, Flexibility, Innovation

 

Pyramid Analytics excels across the board

 

– Business Value, Project Success, Vendor Support

 

Lower your TCO

 

– Customer Satisfaction, Competitive Win Rate

 

Know you're making the right choice

 
Why the BI & Analytics Survey 24 Matters: 
Make Better Informed Decisions

– Get the inside scoop on BI & Analytics solutions before you buy.

 

Optimize Your Analytics

– Learn how Pyramid Analytics can transform your business.

 

Comprehensive Insights

– From purchase to deployment, the report has it covered.

 

Global Perspective

– Gain insights from users worldwide.

 
Download a copy of Pyramid's highlights report today 
*This study was prepared by BARC, an independent market analyst firm. For more information, go to https://barc.com/de/reviews/ and https://bi-survey.com .